About King David's Lodge
The Masons of King David's Lodge are inspired by the courage & wisdom of George Washington, Benjamin Franklin and many other Freemasons who lived in the Age of Enlightenment and led our nation to independence from tyranny.
We share common values with these visionary leaders of the American Revolution, along with the inspiring Brothers who founded San Luis Opispo, including Governor Romualdo Pacheco, Judge Walter Murray, sea captain James Cass, rancher Robert E. Jack and Mayor Louis Felix Sinsheimer – values based on the Fatherhood of God and the Brotherhood of Man.
Do you share our values?
To become a Mason, a man starts by simply asking & getting to know us. We're a friendly, welcoming group!
Mission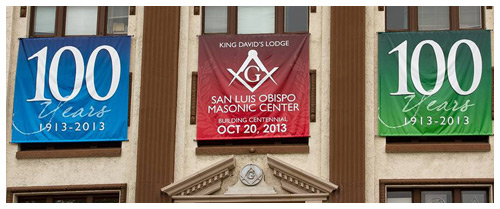 King David's Lodge exists to refine good men, making them into even better men, by a unique experience of initiation into the mysteries of Freemasonry – in much the same manner that George Washington, Benjamin Franklin, and a host of other inspiring leaders have been enlightened.
Vision
King David's continues to stand as it has for over a century: a venerable lighthouse illuminating the Door of Freemasonry for people of goodwill within San Luis Obispo – people who may choose to become one of us, once they see that the door is close at hand.
There are also opportunities of woman & young people to join our Masonic family
Call (805) 234-1731
QUESTIONS about Freemasonry?
ASK a Mason! who is also available to speak to your group about the local history of Freemasonry.